Despite yoga being a traditionally male-dominated practice, it's move to the west has seen a distinct lack of men practicing in sports halls and studios. Marketing in yoga is typically very feminine, with pastel colours and floral designs appearing across logos, and the vast majority of yoga clothing lines being for female practitioners. One thing that has always impressed me about Om Yoga is the fact that it contains a section aimed at men, and that the rest of the magazine is fairly gender neutral. In a typical yoga class, I would say that I see three men for every ten or fifteen women practicing. It's a real shame as yoga can benefit everyone in some way. Om Yoga predicts that 2017 will be the year that western men's yoga will become more commonplace, and this is something that I would welcome. The yoga industry is expanding rapidly, so there is lots of room for new students, from complete beginners to those who have been practicing for months or years in the privacy of their own home. If 2016 was the year that women began to weight lift, then why shouldn't 2017 be the year that men get on their mats?
I can well imagine, that if I were a guy, I would be put off attending a yoga class due to the overly feminised classes, and notion of it being a soft form of exercise, a cop out compared to a hard training session in the gym. The rising visibility of men practicing yoga, on platforms such as Instagram, or movements like Boys of Yoga is making the practice seem accessible and acceptable to men once again. For those still unsure about facing their inflexibility in a room full of women, male-only classes from Broga and other groups can be found across London, the UK and beyond. The breadth of classes now available allows all yoga students to find a class appropriate for them. Fierce Grace has an almost biker-feel to it's branding, with tough classes like Wild that will challenge even fit gym buffs. Yoga Bomb in York markets itself as "yoga for normal people" and it's hot classes with energising music has a near universal appeal.
The activewear industry has been catching up too. Manduka and Lululemon both create beautiful and functional designs for both men and women, whilst the team behind Active in Style have created The Active Man, a brand new website showcasing some of the top brands out there for a variety of sports and training styles. This choice frees guys from trying to do yoga in shorts that don't offer both a range of movement and, uh, full coverage, or sweatpants that fall down.
I'd love to see more men in yoga, whether it be a single weekly cross training session to compliment the rest of their training, or a full, dedicated practice. Of course, change starts at home so maybe it's time I start to pester Stuart again… What are your thoughts in seeing more gender balance in yoga? Do you expect to see a shift this year?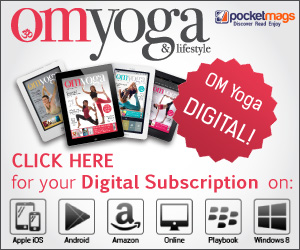 Disclaimer: I am an Affiliated Blogger with
Om Yoga Magazine
. Each issue I will write a post on an article from the magazine and share it with you. By following my link,

you can buy individual issues or subscriptions instantly for less than you'd spend in the newsagent. Have a look here to find about the other lovely affiliated bloggers.